Classes & Programs
Training
Classes
All classes are overseen & taught by Grandmaster Soengkono, with assistance by a team of skilled Assistant Instructors.
Programs
We offer instruction in the arts of TaeKwonDo, Aikido, Tai Chi Chuan and Pentjak Silat.
Personal Development
Martial arts are not just for self-defence and physical fitness.  Our programs focus on the personal development of every student, providing enhanced self-discipline and self-esteem, leadership and conflict resolution skills, and strategies of personal excellence, and everyday life problems ranging from bullying to stress.  Whatever your age or fitness level, Soengkono Martial Arts has a class that's right for you!  
Bootcamp
Give us 3 months and you'll see a marked difference!
Classes For All Ages & Fitness Levels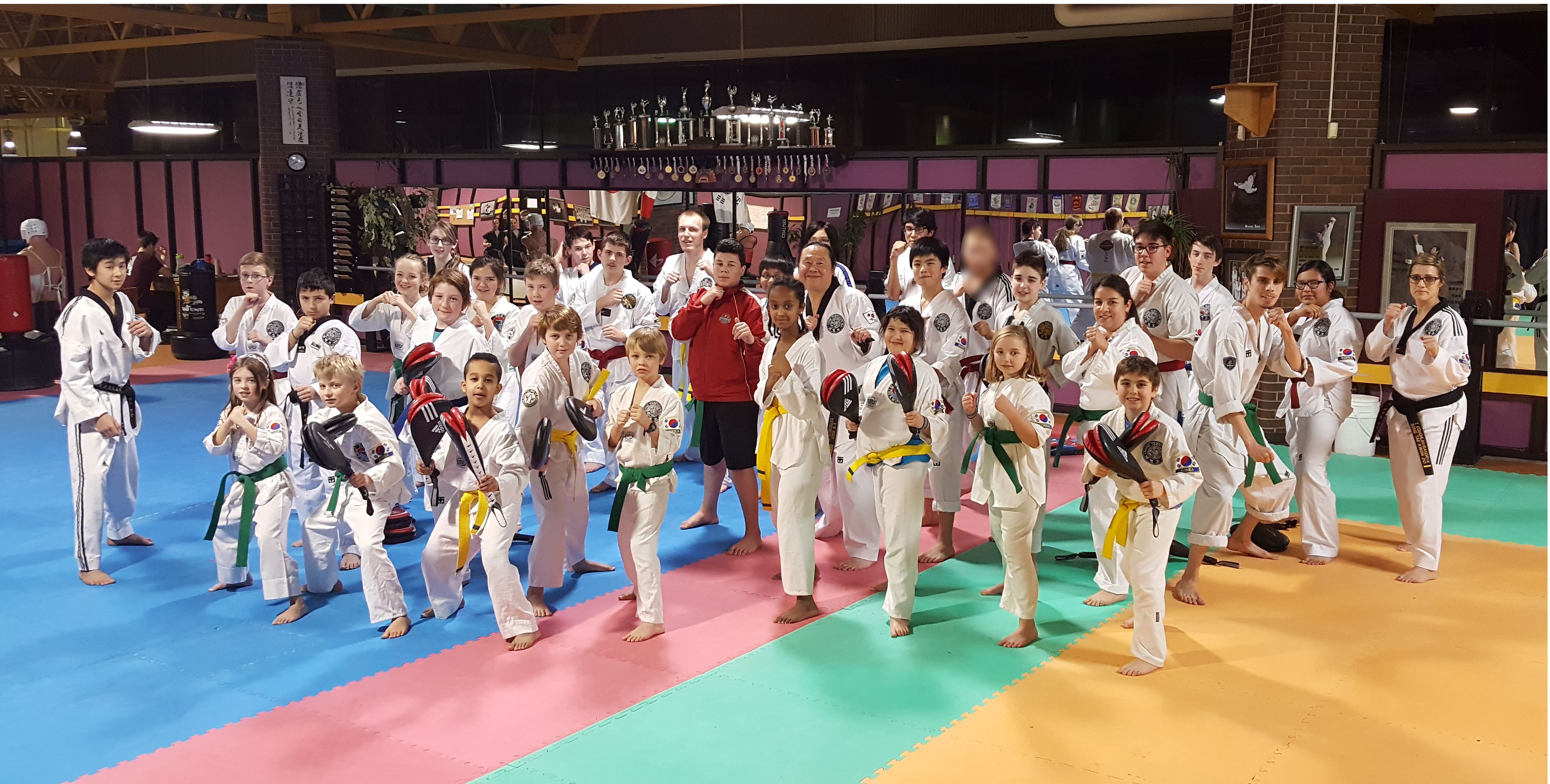 Taekwondo
Tae Kwon Do is a traditional Korean martial art that teaches more than physical fighting skills. Currently being enjoyed by millions of students from all over the world, it is a discipline that shows ways of enhancing the spirit and life through the training of both body and mind. Today, it has become a global sport that has gained an international reputation and stands among the official games in the Olympics. Grandmaster Soengkono was taught directly by the Founder of Tae Kwon Do.
Classes:
Tuesdays
5:00pm – 5:45pm (Kids A)
5:45pm – 6:30pm (Kids B)
6:30pm – 7:15pm (Kids & Teens)
7:15pm – 8:15pm (Adult)
Wednesdays
5pm – 6pm (Mixed Kids & Adults)
Thursdays
5:00pm – 5:45pm (Kids A)
5:45pm – 6:30pm (Kids B)
6:30pm – 7:15pm (Kids & Teens)
7:15pm – 8:15pm (Adult)
Fridays
5pm – 6pm (Adv. Kids & Adults)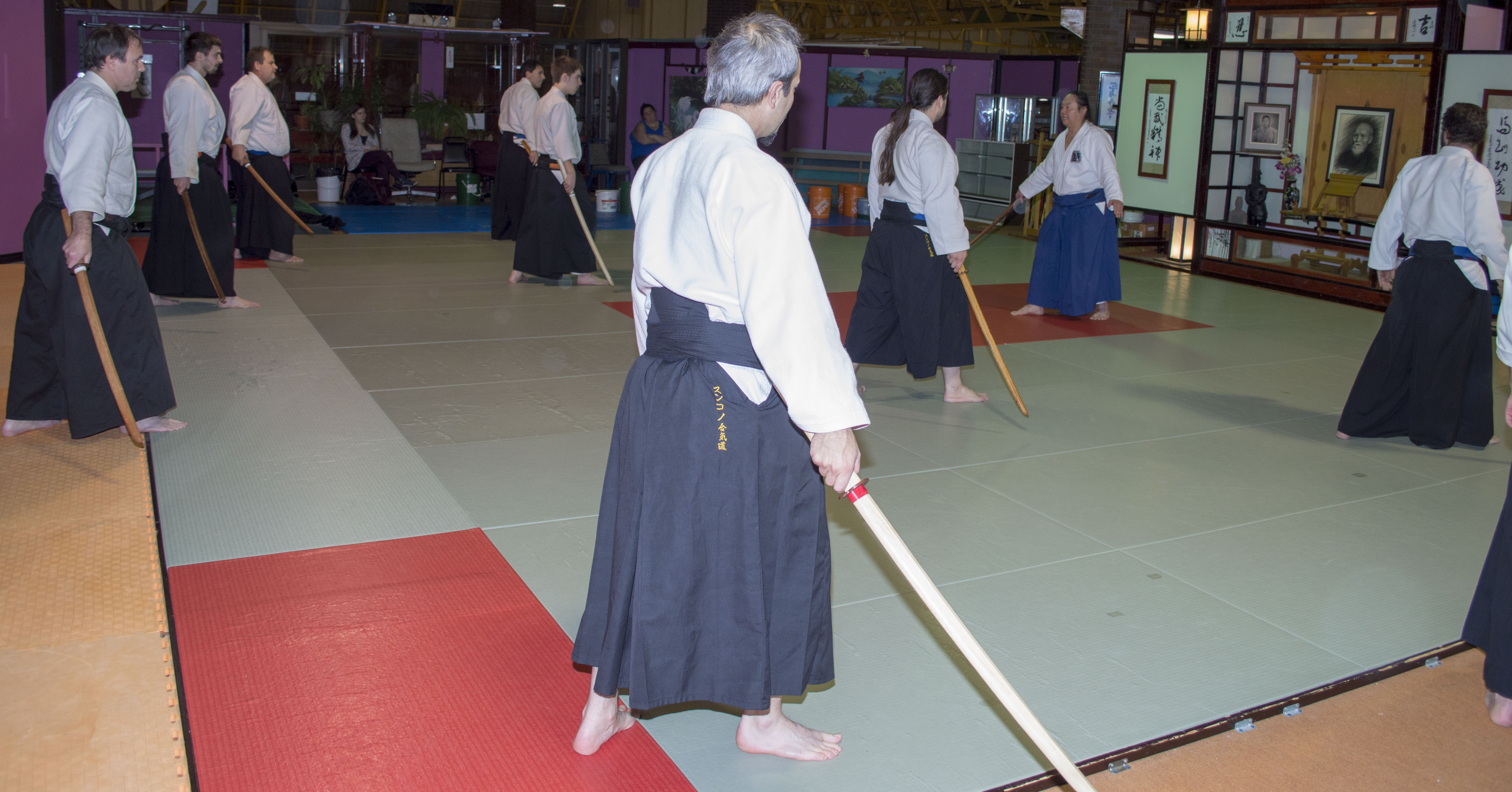 Aikido
The Japanese martial art of Aikido is a comprehensive system of throwing, joint-locking, striking and pinning techniques, coupled with training in traditional Japanese weapons such as the sword, staff and knife. Founded in the twentieth century but following teachings that can be traced all the way back to the Samurai of old, Aikido represents a potent distillation of centuries of Japanese martial knowledge. It is one of the most widely practiced budo, or martial way, in the world.
Classes:
Mondays
5:00pm – 6:00pm (Beginner)
6:00pm – 7:00pm (Advanced)
Wednesdays
Fridays
5:00pm – 6:00pm (Beginner)
6:00pm – 7:00pm (Weapons)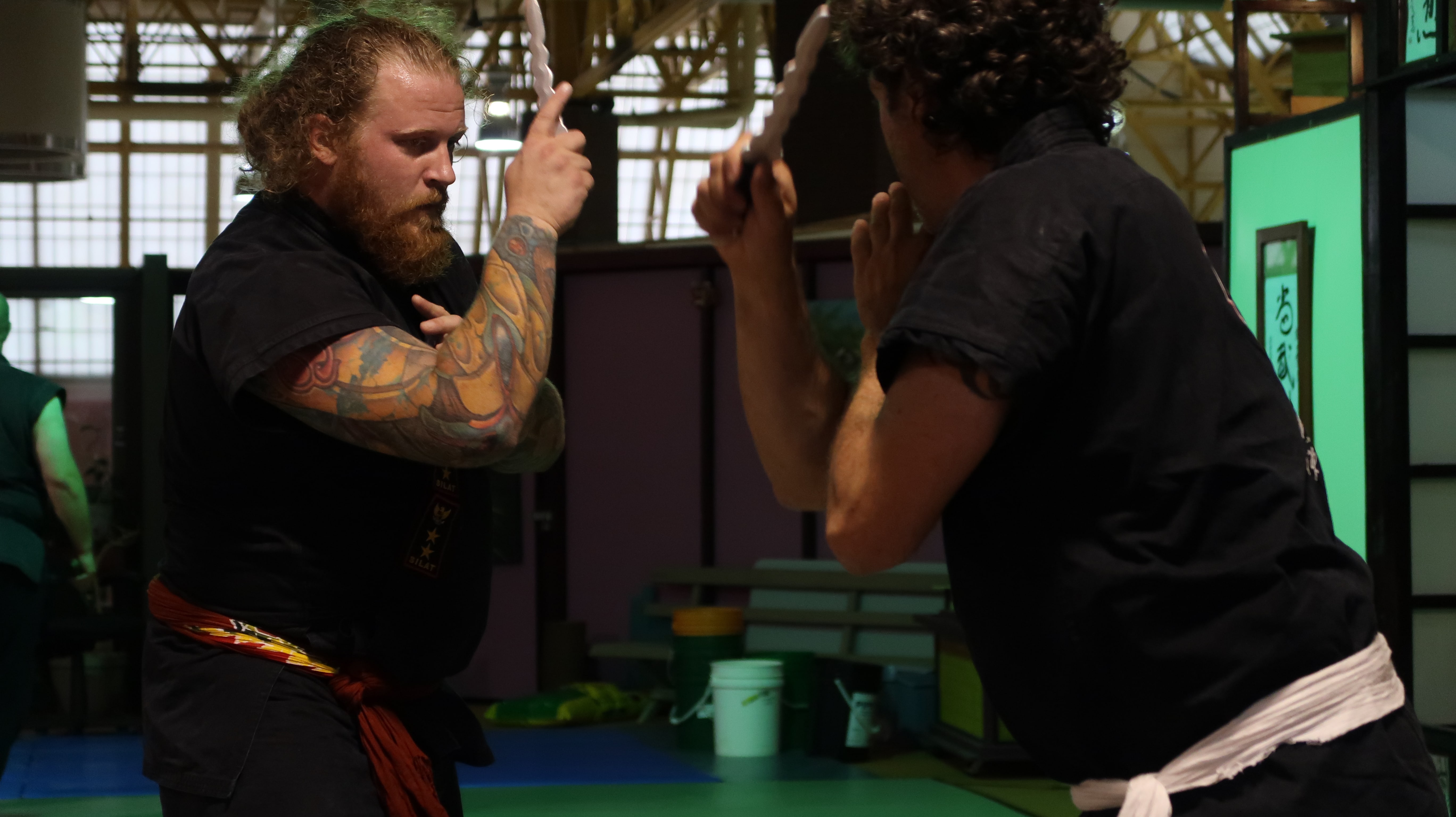 Pentjak Silat
Referring to many traditional fighting styles of Indonesia, the birthplace of our Grandmaster, Pentjak Silat is a combative martial art that is intensely practical, deeply philosophical and incorporates strikes, locks, and various weapons, such as the knife, bamboo sticks, karambit, etc. Known as among the "deadliest of martial arts", Pentjak Silat is a reality-based system of combat that Grandmaster Soengkono taught to the Special Airborne Brigade and the Indonesian Army Commando Elite units.
Classes:
Monday 6:00pm -7:00pm
Wednesdays 6:00pm – 7:00pm
Saturdays 2:00pm – 3:00pm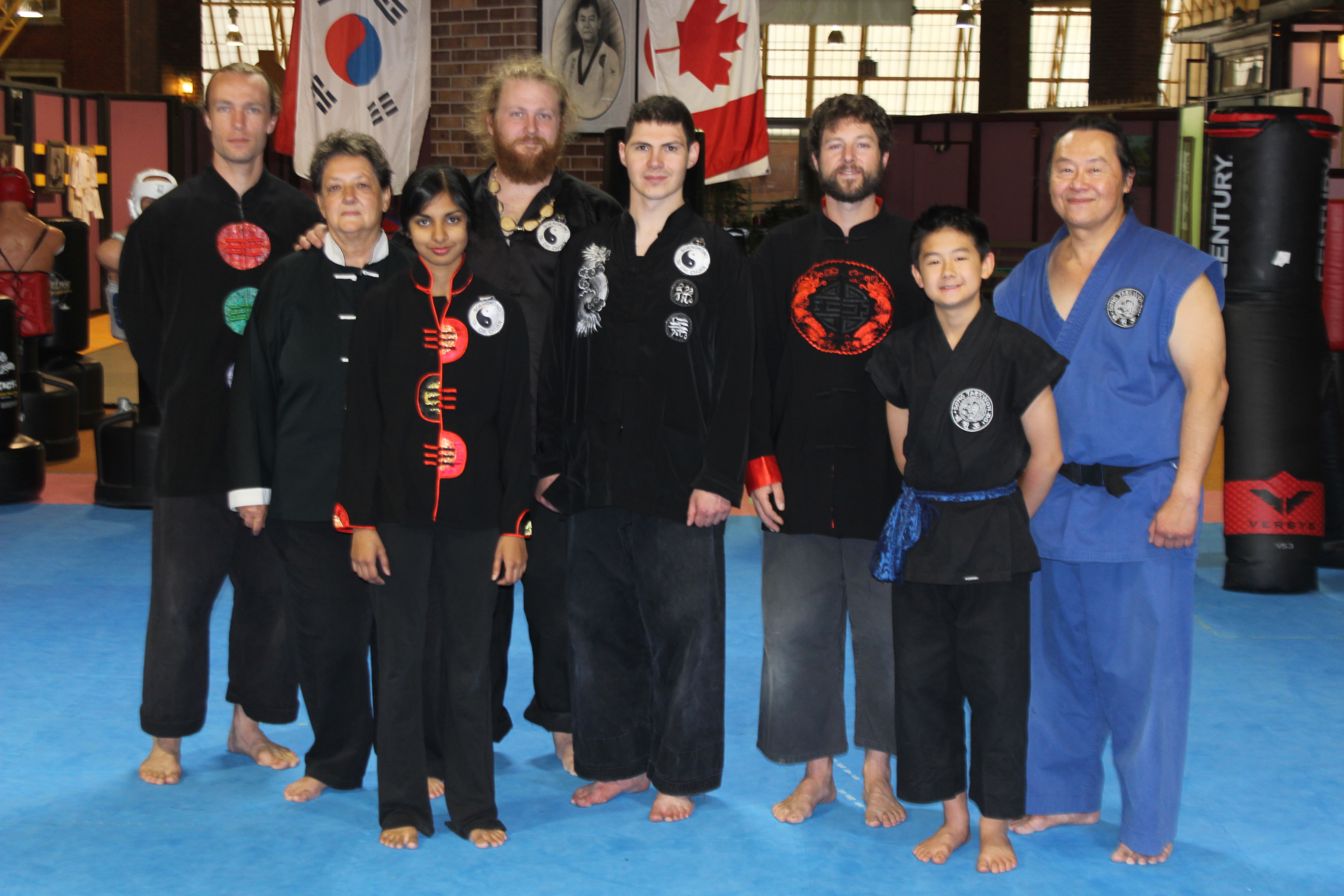 Tai Chi
Tai Chi Chuan is a Chinese martial art that incorporates the Taoist principles of Yin and Yang to develop a healthy body and tranquil mind. Often seen as a gentle method of fitness, Tai Chi is never-
the-less a martial art in the truest sense, and we are fortunate that much of Although Grandmaster Soengkono does not teach religion, his intense unerstanding of this deeply introspective art comes comes from the time when he studied Tai Chi as a monk in a Buddhist monastery in Indonesia.
Classes:
Monday 5:00pm – 6:00pm
Wednesdays 5:00pm -6:00pm
Saturdays 1:00pm – 2:00pm
kids Training
Martial arts is for everyone – but for children in particular, Grandmaster Soengkono's teaching can provide them and their parents a piece of mind that goes beyond mere self-defense.
Improved School Performance
Studies show that kids involved in martial arts show greater focus, self-discipline and respect than their peers.  And these traits serve them well both on and off the mats with better school performance!
Fitness
In this digital age, its hard to find an activity that captures the attention and imagination of our kids.  Martial arts has been shown to inspire kids to get off the couch and work their bodies!
 BullyProofing
Every parent is concerned with bullying.  Martial arts not only gives kids the means to defend themselves when no other option is present, our school teaches in-depth anti-bullying strategies that help our kids stay safe when adults are not around.
Can anyone take martial arts?
Yes!  Martial arts is for everyone: young or old, male or female.  It doesn't matter what your body type is or what your fitness level is.  No matter how you arrive, Soengkono Martial Arts has a class and the trained staff to help you on your personal journey.
Are martial arts competitions required?
No.  The only person you are in competition with is who you were yesterday.  That said, martial arts competitions are not focused on in our regular classes – if it is something that you are interested in, we have additional training times for our competition team.  But it is absolutely a personal choice.
How old do you have to be to start martial arts?
Our children's classes start at about 5 years of age while our teen to adult classes start at about 10.  
Which is the right style for me or my child?
It depends on the individual.  We encourage you to come and visit our facility, meet GrandMaster Soengkono and the Instructors and watch a class or two.  We will help you find the right style for you!
I or my child is/has a [limiting condition]. Can I still take martial arts?
As long as your doctor approves of your training, then absolutely.  Martial arts, at its core is a journey of self-discovery.  Just as before, ANYONE can take and benefit from martial arts training.
Can a smaller person really become proficient in self-defence?
Yes.  Understand that size and physical strength are advantages in a physical confrontation, but proper martial arts training includes strategies to avoid or mitigate a situation, cultivation of the mental preparedness to effectively address a situation, and skills that can overcome an opponent who is relying on their size and strength. 
Why does your program include weapons training?
Weapons training serves three roles in our school: 1) as a learning tool for co-ordination, 2) as a weapon to understand for effective defense, and 3) as an extension of one's spirit.  It is not taught as a tool for attack, and it is not taught in the children's classes.
Fortitude.Focus.Strength
REGISTRATION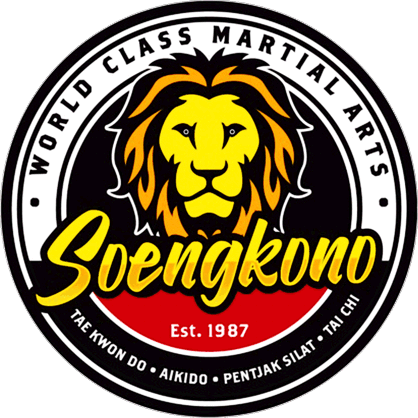 Dojo / dojang H0urs
Monday-Friday: 5pm – 9pm
Saturday: 1pm – 5pm
Join today and get your
FIRST WEEK FREE!
Think Good Things,
Speak Kind Words,
Do Good Deeds,
Share Your Blessings
© 2019 SOENGKONO MARTIAL ARTS